Henry and Elizabeth Botsford settle in Milford, Connecticut in 1639
Henry and Elizabeth Botsford had one son and 5 daughters. Their only son, Elnathan, was baptized by Rev. Peter Prudden in Milford Church on August 15, 1641. His mother had joined the church on October 4, 1640, according to church records, although his father did not join until July 25, 1644.
Elnathan married his first wife, Elizabeth Fletcher, on December 12, 1664. Elizabeth who was the daughter of John Fletcher, was baptized in October, 1645, and died circa 1666. Since Elnathan and Elizabeth's daughter, Elizabeth, was born on October 22, 1665, it can be assumed the mother may have died following childbirth.
At this time, the town of Milford was quite well established and was growing. The church was still the ruling influence on the people, laws and courts to enforce them were in motion and new regulations were made law as necessary, home lots and other land divisions had been laid out, roads were becoming established and bridges made, trade was taking place with Boston and the West Indies, defense of the settlement was maintained against possible trouble with the Indians and a militia was established, a grist mill had been working since 1640 and in 1675, "the mill establishment near the meeting house" was begun.
Elnathan was married a second time to Hannah Baldwin on December 12, 1667. Hannah was the daughter of Timothy and Mary [Welles] Baldwin. Elnathan and Hannah Botsford were added to the church December 27, 1669, and Hannah was admitted to full communion January 15, 1670.
Elnathan and Hannah Botsford had 11 children of their own plus Elnathan's first daughter, Elizabeth, to raise:
Elizabeth, b. 22 Oct. 1665, by first wife
Esther, b. 18 Oct. 1668, bp. 13 Mch. 1669/70; m. (1) Joseph How;
(2) Thos. Humiston
Samuel, b. 30 July 1670, bp. 31 July 1670; d. 1745; m. Hannah _____,
d. 29 Oct. 1732.
Mary, b. 11 Feb. 1671/2, bp. 18 Feb. 1671/2.
Hannah, b. 30 Apr. 1674, bp. 3 May 1674; m. (1) 21 Dec. 1699, John
Prindle; (2) in Nov. 1735, Joseph Hull
Joanna, twin to Hannah, died, 1674
Henry, b. 12 Sept. 1676, bp. 17 Sept. 1676; d. 1747; m. 12 Nov. 1700, Christian Gunn
Timothy, b. 10 Nov. 1678, bp. same; m. 14 Feb. 1704/5, Mary Peck
John, b. 8 Jan. 1680/1, bp. 9 Jan 1680/1; m. Hepzibah Camp
Sarah, b. 10 Aug. 1683; m. 30 Nov. 1710, Daniel Merwin
Ruth, b. 2 Jan. 1686/7; died in infancy
Joseph, b. 10 Sept. 1688, bp. same, m. 9 Jan. 1718/9, Mary Bennett

When the Band of Botsfords was organized by Mr. Charles Woodruff Woolley, Sr. (he descended from the female line of Esther Botsford) in 1905, one of its main purposes was to seek out Botsford descendants. By 1906, over 500 pamphlets of the 1st Reunion had been mailed to descendants, genealogical and historical societies as well as libraries and colleges all over the country, seeking information on Botsford attendees.
During the next 30 years or so, genealogy volunteer workers began accumulating and recording general data about the 5 sons of Elnathan. Soon, the family line of each son had its own mimeographed copy. This tremendous task was done by countless numbers of volunteers and all of their names will never be known, but some are mentioned in published Botsford genealogies.
In 1939 the first genealogy book was published for the Joseph line, followed 20 years later (1959) by publication of the Henry line. 18 years passed after the Henry printing and in 1977 the Samuel line was finalized and printed. In 1999 the lines for the two remaining sons, John and Timothy, were printed in draft format. All genealogies have been updated with new supplemental and/or corrected data and are available in printed form.
Over 100 years have passed since 1905 and the Botsford Family Historical Association continues to honor that "main stay" of our association founders - Seeking Out Botsford Descendants.
"The least people can do is leave a history of themselves for those who come after". - Noah Webster
---

These books are available for purchase in The Store.
About Mary and Hannah

About the Joseph Line
Around 1938, the genealogy of Joseph was prepared for publication and finally published in 1939 (without an index.) The Joseph line was reprinted in 1983 and updated with supplemental data in 2004.
About the John Line
The John Line draft was available in 1999.
About the Timothy Line
The Timothy Line draft was available in 1999.
About the Samuel Line
The Samuel Line was published in 1977 and supplemented in 1991.
About the Henry Line
The Henry Line was published in 1959 and supplemented with new and corrected data.
An American Family--

Botsford-Marble Ancestral Lines describes Elnathan's life as: quiet and uneventful. He conserved the inheritance from his father, and increased it considerably, at the same time rearing a large family of children. He died in middle life, September 10, 1691, aged not much over fifty years, leaving two children under ten years, besides several in their 'teens, one adult son, and two adult daughters.

He shared in the later distributions of land made by the town, and in 1678 sold land to Nathaniel Baldwin, but his name does not appear frequently in the land records.

Like his sisters, Elnathan married into the better class of Milford families. Left a widower with an infant daughter, he found a second helpmate in Hannah Baldwin, who brought him the L50 she had received under the will of her father two years before her marriage.

His will, made on 4 Aug. 1691 and written by his own hand, shows careful thought and planning for his wife and children, and his own words, descriptive of his wife, --"my loving tender harted wife,"--are welcome for the light they shed on her character and on Elnathan's affection for her. It is noteworthy that she survived him for fifteen years without marrying again (though hasty remarriage was common at that period); and died on 7 Aug. 1706. A host of descendants owe a great debt to the memory of this early ancestress, this "tender-hearted" yet faithful and quietly heroic woman.


A Pedigree Chart from information in Origins of the Botsford Family by Otis Marble Botsford, 1937, is available for download here.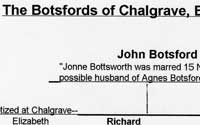 If you have any questions or information to add about our lineage, please contact Eileen White at ebw@eileenandjoewhite.name.